Who was Morgan May?

by Mimi Carlyle
from Historical Whisperings,
Newsletter of the Washington County Historical Society, Minnesota,
July 1989
They say his coffin had a copper cover which burst into flames of light reflecting the cold bright sun on that early February day when Morgan May made his last journey to Marine. He died on his once thriving farm in May Township (so named in his honour in 1893). Eighty-seven years have passed but still some of the myths and questions persist in the minds of old time residents, and have been passed on to third and fourth generation natives of Marine, May Township and Stillwater.
They say Morgan went to sea at 16 with the East India Company, and later served as a naval officer during the China Wars of 1841-1843, eventually spending time in South Africa; and that he kept logs and journals of his travels. However, records of the East India Company and the British Navy (which are both extensive and complete) have no mention whatsoever of a Morgan May in their files. British census schedules of 1841 and 1851 list Morgan as living in his father's house as a miller.
They say Morgan amassed a fortune as a pirate and slave trader; and that he brought slaves to work his farm; then, several years later, had his farm hands drop slave bracelets through the ice on May's Lake, to hide the evidence. Known facts suggest a variety of explanations for such rumours. Morgan May was born on 30 July 1818 near Reading, England, the youngest child of a large wealthy family. His father, Daniel, owned an immensely prosperous mill that had been in operation for several hundred years just 30 miles from London. He also held the local water rights on the Thames River; and came from 500 years of wealthy families dating back to 1450. Morgan's mother, Eleanor Barnard, added a sizable dowry to the marriage.
When Daniel died in 1851, the mill was sold. Morgan and two brothers inherited sufficient funds to keep them handsomely the rest of their lives. That same year Morgan left England to settle in New Orleans with a letter of introduction to the Polk family where he met, and, on 30 May 1853, married Louise Polk. They say that Louise was a niece of James Knox Polk, 45th President of the United States. Though James Knox (1795-1849) and Louise's father, Samuel White (1790-1849) were contemporaries, they were not brothers, but were perhaps distantly related.
It was fashionable for wealthy southerners to vacation in the north, so Morgan came up the Mississippi to Stillwater as early as 1855, when he contracted to buy 400 acres of land, probably for a summer retreat, east of Terrapin Lake. In 1857 he brought to Minnesota his wife, her mother, Margueritte Polk, Theobald and Numa Forstall, Louise's nephews, and an Irish servant, Samuel Murphy. No slaves. Theobald became a clerk and partner in a warehouse provisions business on the levee at the foot of Chestnut Street (which Morgan had built in 1856) where he worked until 1861, when he returned to New Orleans. The warehouse burned down in 1867 and the lot sold to Isaac Staples for $2000.
The Forstall family did bring two slaves from New Orleans, along with Theobald's young wife, Anne Walton, in 1858, which created a great stir in Stillwater, causing one newspaper editor to refer to the - clanking of chains - in Minnesota. Theobald was also a States Rights Democrat who wrote editorials for the Stillwater Democrat, an early paper that supported States-Rights and slavery. Perhaps Morgan became guilty by association, though he severed his association in 1858 by buying out his partnership with Forstall.
Louise had died the winter of 1857 in New Orleans, which left Morgan devastated. He returned to Minnesota and took up serious farming on the retreat he had officially purchased on the 23rd of June 1856, and by 1870 had added over 3000 acres to his land holdings and had expanded the farm so that it was valued at $50,000, an enormous sum in those days.
They say Morgan was a shrewd businessman and tight with a dollar; and that he drove his farm hands ruthlessly, going so far as to build a tower from which he could watch the workers in his fields. But they also say this hard man was swindled out of several thousands of dollars on a pine land investment on which the trees had already been cut, and then was given a silver bowl (as a wedding gift when he married his second wife, Catherine McKenzie) by the swindlers to make up for their thievery. Morgan did buy pine land in 1870, and the bowl still exists.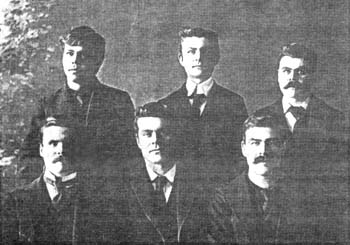 Then there is the story of an autobiography written by Morgan before 1885 which, if a copy could be found, would go a long way toward exploding some of the myths and helping to verify many of the questions remaining about the enigmatic wealthy Englishman who spent 32 years of his life as a gentleman farmer in May Township. Three copies of the autobiography are supposed to have existed: one lost in the fire which destroyed the farm house in 1900: one given to the Stillwater Library in 1885, long since lost in the library's many moves and changes: and one in limbo, somewhere, perhaps still waiting to be discovered.
Providence has provided several excellent sources of information, including Morgan May himself, in the form of a journal which he wrote between 1861 and 1871 on the farm he named Emerald Grove. An early entry dated 14 April 1861 indicates he "hired Ingram (negro) at $15 a month - as a farm hand. It is the only entry in 10 years that mentions a "negro".
Morgan's journal is a remarkable documentation of daily life on a developing pioneer farm as it includes everything from weather notes to personality clues. it covers planting, working and harvesting crops, livestock, buildings, visitors, purchases, farm hands, wages, loans, trips, entertainments and business deals, as well as Morgan's terse yet anxious courtship of Catherine McKenzie, who was half his age at the time she finally agreed to marry him in 1870. The journal does not mention a watch tower even though all of the barns, sheds and house improvements are noted. Morgan's main carpenter was James Okerson from Marine, who was kept busy for nearly 20 years. Sample journal entries include:
8/21/61 - Paid Okerson for barn $140.
1/3/62 - Ice house commenced.
11/2/64 - Okerson came to make sheep racks.
7/17/69 - Made contract with Okerson to build barn ... by harvest for the sum of $250.
9/26/69 - Carpenters at waggon house.
8/13/70 - Okerson, carpenter for Marine house, $61.
The vision of the ruthless businessman fades with numerous entries in the journal, such as: 6/12/69 - Rewarded men for good grubbing - keg beer. 3.50. Morgan was actually a soft touch lending money to hands, friends and neighbours, as well as providing funds for community buildings. He put up the $2000 bond to construct the sandstone town hall in Marine Mills in 1871; built the 2nd Congregational Church east of Square Lake (for which a marker stands today) in 1878; and built the Square Lake School, District #74 about 1898. Some loans that appear in his journal:
3/5/67 - Gave chk for $120 on - account of Andrew Carlson loan.
2/15/68 - Went security for Michael Kriner for $100.
11/9/69 - J McKenzie came and bothered into advancing him $1000.
8/11/70 - Mark Mantor loan on $500. Took his note at 6 months 12 perct int.
9/27/70 - Loan J Carli $500 bond at $560.
Some of Morgan's loans were difficult to collect, and took time:
12/5/68 - Dunned Mr. Foss for $100.
5/29/69 - Mr. Foss paid $100 debt by horse (for) $165, bal chk $65 (paid to Foss).
Making the farm profitable, or at least sustainable, was a major concern for Morgan, as were stock and grain prices.
12/31/61 - Pecuniary matters have gone from bad to worse with very low prices & high labour & taxes. 1 must now resign all hope of ever making a bare subsistence out of the farm.
5/6/62 - Cover came. Sold him 4 fat cattle for $100 ‑ a cut‑throat bargain for me, but have no choice.
4/16/65 - Report says the war has terminated. Everything has fallen, sheep among the number. 1 am just in time to make a big loss.
6/29/65 - Sold wheat to Gaskill for 75 cents (per bushel). Now I suppose it will rise.
Facing loss pragmatically was not always a part of Morgan's nature:
4/19/61 - By some mysterious means $115 in school orders are missing from the packet. So I save a dollar one day and lose 100 the next. When shall I correct the habit?
4/17/62 - Heard Carli had smashed up with all our ready money, Arthur's $1500 and $2222 belonging to Self. Misfortune shall hunt the wicked person until it overthrows him.
In the decade covered by Morgan's journal there are nearly 500 entries relating to his association with the merchants and inhabitants in and around Marine Mills (name changed to Marine On St. Croix in 1923). It is likely these associations began when Morgan arrived on tile farm in 1857 and continued until 1885, when he moved his family, six sons and a daughter, to Santa Barbara, California for his wife's health. Catherine suffered from asthma, and it was thought the warm salt air would be beneficial. It was, as she lived 13 years longer than expected. She died of consumption on 11 June 1897 and is buried in Santa Barbara.
Charles Reed and Robert Rich were Morgan's nearest neighbours, both sharing stock, implements, fishing trips, and social visits over the years. Robert Rich was a Marine Mills supervisor for many years and may have influenced Morgan's decision to become involved in community activities. Morgan became chairman of the board of supervisors in 1871 and was on the board for two years. However, he had to be a citizen in order to participate as supervisor so signed his citizenship intent statement on 14 March 1871; just in time:

4/8171 - Attended meeting in Marine. First time as chairman of board.

An early entry set the stage for the years of continuous intercourse which followed between Morgan and Marine:

3/9/61 - Went to Marine with mulestook 12 bus feed, water truck to be ironed. Pd grinding & flour 3.84.

Thousands of bushels of wheat, oats, corn, rye and barley were hauled to Marine, sometimes by as many as four teams at a time, most of which was bought by James R. M. Gaskill, Orange Walker and Sam Judd, who owned and operated the lumber and grist mill on the banks of the St. Croix River in Marine.

12/7/67 - Went to Marine, 2 teams 70 bus wheat, 18 bus grist. Gaskill paid up balance of 444 bus wheat as per acct. Also 60 bus oats - $574.70. Grinding & flour acct. 39.93.

Morgan also sold or traded cattle, meat, sheep, potatoes, hay, wool and horses with the Marine merchants and local residents:

12/13/67 - Went to Marine. Got rid of 4 sheep. Rec'd for one, 2 to Westergrain 68 Ibs, $3, 1 Groff - 34 Ibs.

Morgan's English money flowed into the infant state of Minnesota adding to its growth and development. Many young, struggling immigrants worked on the farm, or sent their sons to work. While Morgan did take advantage of tax forfeited land to amass thousands of acres, some in Forest Lake, Chisago and White Bear, in addition to Stillwater and May Township, he also purchased land from local farmers either with cash or by trade.

6/22/62 - Sold mare & Moses' colt to J Tate for 80 acres of land on creek. (Carnelian Creek)

9/6/63 - Gave Borden to give $3 per acre for Harding tract.

6/22/67 - Bought Mitsen's 80 acres & paid by cash $170.

The "slaves" Morgan used to work his farm were paid from $15 a month in 1861 to $40 a month in 1871, and were mostly Swedish with names like Carlson, Johnson, Anderson, Nelson, Swanson, Oldson, Larson and Lingrain. They were almost all from Marine. Members of the Weberg, Jerome, Falk, Meredith, Huntley and DeWolf families worked for Morgan, all from farms in May Township. Some of the farm bosses were Charles Clark, Daniel McLoud, Henry Borden, Ben Langenbaugh and ? Freeman, whose wives served as housekeepers. Mrs. Clark and Mrs. McLoud both had babies born at Emerald Grove, and Freeman's daughter Madeline was married at the farm.

The first twelve years (1858-1870) of life on the farm were busy but depressing for Morgan. His despair appears at times in the journal:

4/13/66 - Wretched low & lonely. Can't stand this much longer. Poisoned gophers but abstained from myself.

12/31/68 - So ends this year 1868.... Life in the past few years has been mere vegetation, is now only steady decay. Nothing done for this world or the next.... but when Catherine McKenzie agreed to marry him his entire outlook changed. he became effusive and extravagant.

6/13/70 - ...found Kenneth McKenzie with a favourable answer from Kate. Ain't I glad I can hardly believe it!

11/6/70 - Glorious day. Went to church with Wife and her new horses.

Morgan's great love was horses on which he lavished large quantities of money. He was especially partial to matched teams. His beautiful horses, and other quality livestock, took many prizes at the Washington County Fair, which he was instrumental in organizing in 1869, serving as the first president of the board.

Between 1871 and 1883 Morgan and Catherine had 8 children, with one dying in infancy in 1872; Kenneth born 1871, Barnard born 1873, Morgan born 1875, Thomas born 1877, Catherine born 1879, Harry born 1881 and Alfred born 1883. Barnard, Morgan and Thomas all farmed in Canada. Catherine also lived in Canada, while Harry and Alfred settled in California. Kenneth May lived out his life at Emerald Grove.

When Morgan left for California in 1885, he leased Emerald Grove to the Ransom and Lucinda Jenks family. It was their daughter Edith who kept Morgan's journal as a scrapbook, which she took with her when Morgan returned in 1897, thus saving a priceless part of Washington County history from the disastrous fire of 1900. Unfortunately, with the addition of her pictures, Edith did cut out many pages from the first five years of the journal, so that the pages would lie flat. Even so, the journal is a vivid account of a man and his time in history.

All of Morgan's children gathered in Minnesota the winter of 1902 to accompany Morgan on his final trip to Marine. No one today knows if his coffin was really covered with copper

.

[Mimi Carlyle, a Minneapolis resident, is researching the Morgan May family of May Township for Wilder Forest, a division of the Amherst Wilder Foundation. She is a descendant of John Boxell, an 1854 settler in Afton, where he taught at the Afton Academy.]