MFH Home
Family Trees
Records
Wills
MIs
Studies
Memories
People
Places
Related Families
Odds & Ends
Mail David
Sonning Monumental Inscriptions
to
the MAY Family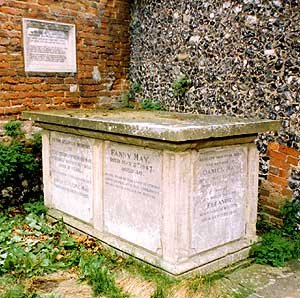 St. Andrew's Churchyard
Daniel May
who died 13th September 1851,
Aged 80 Years.
Daniel May,
Born 22nd December 1771,
Died 13th September 1851.
Eleanor
wife of the above,
Born 8th March 1775,
Died 7th September 1858.
Elizabeth Catherine May,
who died 30th August 1839,
Aged 27 years.
Also Caroline May
who died 15th March 1857.
Fanny May
who died 3rd May 1847,
Aged 40 Years.
George May
eldest son of Walter & Mary Anne May
who died 22nd March 1845
in the 7th Year of his Age.